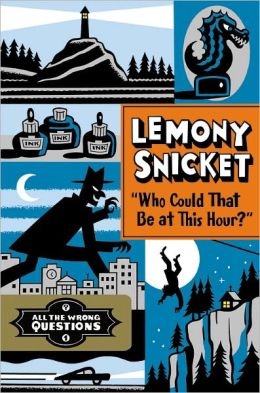 I admit: I don't know what to make of this book. Part of a new detective-noir-for-kids series called All the Wrong Questions, Who Could That Be At This Hour? by Lemony Snicket (who is the 13 year old detective narrating the story that is part of a four novel series) is both confounding and interesting and off-putting and grabbing — sometimes within sentences of each other. One one hand, the language and tone of the book is perfect for noir. You can hear it in the dialogue and Snicket's inner thinking. On the other hand, the story unfolds at such strange angles that I wonder if any of my students would stick with it, even those who loved The Series of Unfortunate Events. I just don't know.
There are places where I chuckled out loud (good jokes about books, and recurring lines that hit the humor vein), and others where I was scratching my head. I didn't mind that the back story of the main character, detective Lemony Snicket, is barely revealed but the way the pieces are revealed are plain confusing.  Snicket (the write) is asking the young reader to put a lot of trust in him that all will be revealed somewhere down the line.
The plot itself — a recovery of a stolen statue and many misleading stories by characters with their own reasons for what they are doing — is a typical noir plot, with twists and turns and wrong questions being asked leading characters into sticky situations. And of course, there are the confounding females (three of them, at least) who lead our narrator in one direction after another.
I will say this: the cover is eye-catching. I just don't know who will read it and stick with it.
Peace (in the noir of the night fiction),
Kevin
PS — the video trailer: