"Why are we doing this?
The question came from a student who was not trying to challenge me. He really wanted to know. What do kids in a small suburban town of Massachusetts, USA, have in common with the crisis in the Darfur region of the Sudan? Why should he care?
For the entire day, my students were fully engaged in learning about the situation in preparation for participation in the Many Voices for Darfur Project (see yesterday's post of my lesson plans and thoughts going into the discussions). They were outraged by the information they gathered. But some, like this student, were wondering why this was part of writing class.
But I was ready.
In fact, I had hoped students would ask such a question and had mulled over what to say as a sort of pep talk.
My answer, not quite verbatim but close:
"Why? Because there is a crisis going on in this part of the world and there is suffering going on and if anyone, anywhere, has the power to confront evil — not the evil you see in the movies but the evil that takes place in reality — then they should have an obligation to do what they can to confront that evil. We have talked all year about how your writing has power and your language is more than just words on paper. Young people can make a difference and here is a project in which your writing, and the writing of other young people around the world, could influence those people in power to choose peace instead of war. We're lucky to live in the United States, where this sort of thing does not happen. You should always count yourself lucky. But you still have an obligation to be informed and to get involved. If you can make a difference, you should make a difference."
My student nodded in agreement and got back to work. A few minutes later, a group of girls came up to me and said they want to do some kind of fundraising activities to help the refugees in the camps in the Sudan.
"We want to get them tents and warm blankets and food," one said to me. "We're going to plan something."
Now that is what I am talking about: social action through writing and through action.
Peace (shall rise),
Kevin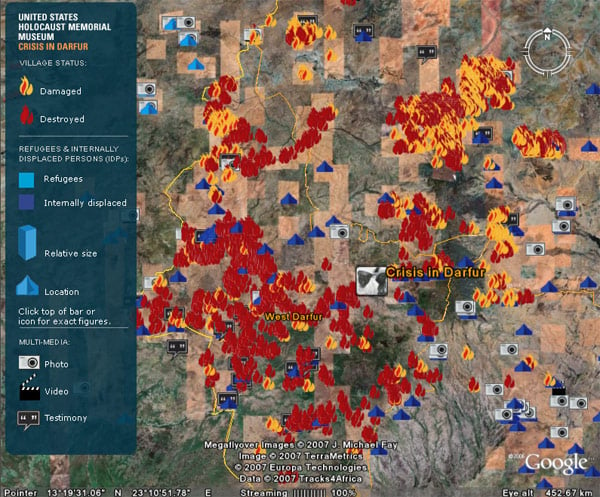 (found this map)