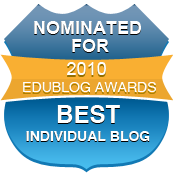 Thank you to those of you who nominated my blog for the 2010 Edublog Awards. I am honored and humbled to be in the same list as those other bloggers. Wow.
General information about all the categories is here and the section for individual blogs is here. Even if you don't vote for me, these blogs should be part of your RSS feeds. In particular, I love the Most Influential Blog Post category — some great reading there.
Thanks, again, if you are a reader here. I see you every day I write.
Peace (in the blogging world),
Kevin