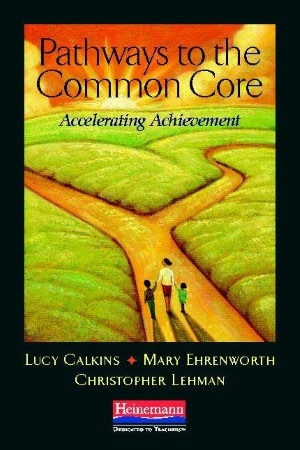 I imagine that there is going to be a flood of books from publishers trying to get an angle into understanding and implementing the Common Core curriculum. My state is right in the mix of the Common Cores — shifts should already be happening — and our Western Massachusetts Writing Project is already seen as having expertise in the ELA components. So, I cast a critical eye on books that center on the Common Core, but I am also very interested in what other people have to say.
Pathways to the Common Core: Accelerating Achievement by Lucy Calkins, Mary Ehrenworth and Christopher Lehman is a shining example of how three smart educators come to the Common Core with a critical lens, shift through the expectations of students and teachers, and come out the other side with a fair, logical and open look at how to meet the objectives while still maintaining a professional voice as a teacher in the classroom. They don't skirt the challenges, particularly around the balances needed in reading a large amount of non-fictional text next to narrative text, and the requirement for a comprehensive review of how argument and opinion is taught across the grades, and how content areas teachers must be ready and prepared to teach reading and writing, too. The authors also highlight the many concerns and fears that teachers may have about the Common Core, acknowledging the tension that "national standards" bring the table (even if the Common Core is not officially being called national standards).
What I liked is how Calkins, Ehrenworth and Lehman follow progressions of learning vertically as well as horizontally, and offer positive advice on how to meet the challenges. They have clearly done their homework here, and they highlight best practices across the board in meaningful ways. The last few chapters, which may be more for administrators than teachers, gives a blueprint on how to get conversations in school buildings and districts started, and how to support change by first building on strengths already in play and the moving outward from there.
My main criticism — and this is my own lens speaking here — is that the book barely mentions the roles that media and technology can play in the Common Core. Except for a section around Speaking and Listening, Pathways doesn't really acknowledge the world of literacy that kids are living in, and how the standards actually open doors for collaborative writing, use of technology for publishing, and more. I know, however, that that is not the focus of this book. It was just something I noticed.
Overall, Pathways to the Common Core does what it sets out to do: explain how the Common Core can unfold, highlight the challenges that will face most teachers, and provide a potential path for bringing the standards into curriculum design.
Peace (in the reading),
Kevin