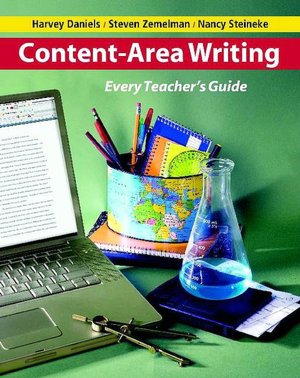 We're going to be using this book — Content-area Writing: Every Teacher's Guide — in the coming weeks with some ELA teachers, as we explore the possibilities and the shifts of the Common Core in our state. Just like one of the other books by two of three authors that I use a lot — Texts and Lessons — this resource by Harvey Daniels, Steven Zemelman, and Nancy Steinke is pitch perfect for teachers who want to learn more about writing in the content areas, but don't quite know where to start. (see my review of that book)
Daniels, Zemelman and Steinke give a nice overview of the importance of writing to learn, no matter what the class, and then offer up possibilities for the classroom. The book begins with a series of quickwrite activities, and then ventures into longer project-based options, and ends on an interesting chapter around writing for standardized tests. This structure, plus the breezy style of writing, makes the book very accessible for a wide range of audience. There is a lot of practical advice, including sections on "what could go wrong" for teachers to consider when implementing the ideas. There are helpful connections to real classroom examples, and then further connections to the science, math and social studies classroom experiences.
I think the book will be a hit with teachers in our professional development.
Personally, I enjoyed the project-based writing chapters (what they call public writing) and have become intrigued once more with the i-Search paper format, which has nice connections to research skills and inquiry writing by students. In fact, after reading Content-area Writing, I am now intending to start the year out with an i-Search project with my sixth graders in September, helping them early on in the year with some research and analytical skills that will hopefully set the stage for longer pieces as the year progresses. (The i-Search idea is built around choice, inquiry and writing). Last year, we didn't get to research and essay exploration until the end of the year, which did not help my science and social studies colleagues out in their content-area classes all that much.
Peace (in the writing),
Kevin