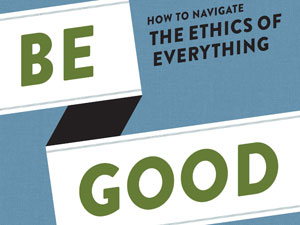 If you read the New York Times Sunday magazine, you may know the name of its ethicist, Randy Cohen. He writes "The Ethicist" column, in which he answers questions along ethical lines in a tone that is humorous and erudite (he likes big words), and gives such interesting perspectives on the gray areas of life. This book — Be Good: How to Navigate the Ethics of Everything — collects some of his best columns, and Cohen is in fine form here. I really liked how he gathered the pieces around themes: family, home, civics, money, technology, school and religion, and more. Each section begins with a short essay from Cohen that parses out his thoughts, and includes points of contradiction.
There's something to be said about reading the queries of others. It's sort of like eavesdropping. That's why advice columnists are still so popular. And I think we often see our own personal quandaries, and weaknesses, reflected in the questions of others. That's why Cohen collection is strong — he acknowledges our confusion, and provides an ethical path forward. In his view, our ethical decisions are ones that impact others around us, and he is careful to delineate the legal decisions from the ethical decisions. Sometimes, they overlap; mostly, they don't.
Being good is difficult, particularly since we live in the realm of others. Cohen gives us solid advice, in an entertaining yet educational way, on as wide arrange of subjects.
Peace (and ethics),
Kevin