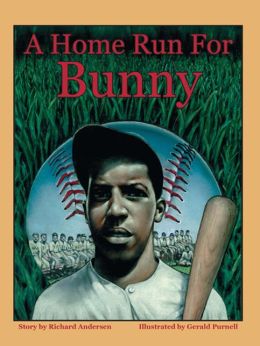 In our house, it is baseball all the time these days. All three boys play ball, and the Red Sox are always on the radio (even during the dark stretches of the losing streak that finally ended yesterday). My youngest son's book club is reading A Home Run for Bunny, by Richard Anderson.
This story, set in 1934, tells the tale of Bunny Taliaferro, an African-American athletic standout from nearby Springfield, whose American Legion team went south to play in a national tournament, only to be confronted head-on by racism. Bunny was the only black athlete on the Springfield team, and in the tournament, and his presence sparked confrontations everywhere, from the hotel that did not want him to sleep on their beds, to the practice field where people threw garbage at him, and more.
In the end, the entire team decided to go home rather than play in the tournament, after Bunny was told he would be not be allowed on the field with the white teams. It's a powerful moment when Bunny's teammates, although confident they could win this tournament and move to the next level, take a stand and pack up to leave in order to support their black teammate rather than play without him.
A statue of Bunny Taliaferro now stands in one of Springfield's parks, and the governor honored him and his teammates in a recent ceremony, noting the racism that Bunny endured during this time as an athlete and the sacrifice that his team made in choosing friendship over winning. The story is written in a removed first-person narrative, allowing the reader to see the story unfold from one of the teammates, and this is effective.
Times may have changed, even if racism is still an issue, but it is important for us to remember that even before Jackie Robinson and other pioneers who broke the race barrier, there were people like Bunny Taliaferro suffering the sting and scorn of a country still driven by hatred of skin and culture. By focusing on the team's response to such racism, writer Richard Anderson reminds us of the goodness of people, too.
Peace (please),
Kevin