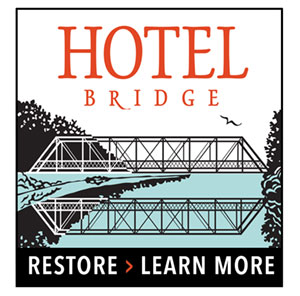 I love the small village in which I live. It's part of a larger, small city, but our village has a real small-town feel to it. One of its central features is an old bridge that stretches out over the main river, connecting one neighborhood and conservation area to the main road (such as it is).
But, alas, our Hotel Bridge is closed down to even pedestrian traffic. It's age and lack of maintenance has been an issue for the Hotel Bridge for years, and now there are worries of safety. I can remember being able to drive my car over it, and I biked over it more times than I can count. When my boys were little and sitting in the plastic child's back seat of my bike — little legs sticking out and little fingers poking me in the back — I would often stop on the bridge, and we would gaze down at the water, searching for fish and turtles.
(photo by Nathan Holth and Rick McOmber)
There is now an effort to save the Hotel Bridge, and last night, we gathered in a community meeting to hear from an Iowa firm called Workin' Bridges, which seeks to save and restore old bridges. The cost for our bridge runs from $1.6 million to more than $500,000 — depending on the use for the bridge. It's a lot of money that our city does not have right now, but I am heartened by the energy of the village and the public-private partnerships that we have in our area.
It's so interesting to think of how a bridge holds the historical fabric of a community together. This one certainly does. Not just mine, as a dad on a bike, but also, the ghosts of a hotel that once sat on one side of the river, and the mill buildings upriver in viewshot, and the dam downriver, where teenagers still swim. The bridge is a visual fixture and anchor to the community. Saving it is saving more than a structure; it's saving a part of who we are here, here in our village, for generations to come, and who we were. I hope we can find a way to do it.
Peace (across the span),
Kevin