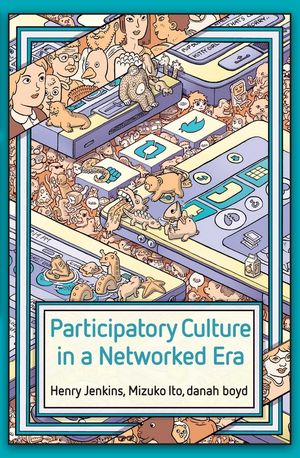 We would love to keep the conversations going with Digital Writing Month, even though the so-called "month" is over. So, we are inviting friends (and you are a friend, so you can join in, too, even if you did not take part in DigiWriMo) to read this new book by Henry Jenkins, Mimi Ito and danah boyd: Participatory Culture in a Networked Era as a way to stay connected and explore a fascinating topic with some talented researchers/writers.
We'll be starting some discussions over our existing DigiWriMo Google Plus space, but I suspect things will spill over into other platforms as we move along. In fact, I would hope so. I am only part of the way into the first chapter, and already, the three have made it clear that we should never talk about platforms being "participatory" — it is the culture of the community that can be considered participatory.
So we hope that members of the group will become leaders of the book talk as we move ahead. As such, we will likely platform jump through the book ….
Please, join us. We'd love to have you in the mix.
The DigiWriMo Google Plus Community Space is here.
Peace (in the book),
Kevin