We're just launching our #DigiWriMo slow-read of the new book — Participatory Culture in a Networked Era — by eminent scholars Henry Jenkins, Mimi Ito and danah boyd. Terry Elliott has set forth a few collaborative annotation options for people to feed into as a way to demonstrate participatory culture as a shared reading experience.
Let's get reading Participatory Culture, yes? #digiwrimo Here's the starting place. https://t.co/tVMAJkUOEo Intro/call & response defining
— Terry Elliott (@tellio) December 14, 2015
I hope we begin to examine how technology platforms promote and/or hinder participatory involvement.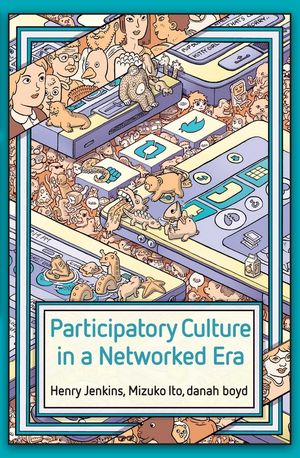 After reading the first section — which is, as the rest of the book, mostly in the form of a transcribed/edited conversation between the boyd, Ito and Jenkins — I was struck by a number of phrases and ideas. My highlighter (I am reading paper copy of book) had been busy, and as I looked over my notes, I began to see a found poem taking shape.
The phrase "Toward a collective ownership of stories" keep ringing around in my mind. This phrase resonated with me and all of the collaborative projects that we undertake in places like #DigiWrimo or #CLMOOC or #Rhizo(add year) or whatever. While the platforms of technology open up possibilities, it is always the people that make the collaborations happen. We tell stories, together. I am making connections between that work/play and what the three writers here are talking about when it comes to participatory culture.
Those words in the text became the anchor point for a found poem. I had this vision of doing it as a podcast, and trying to get many people to read that line "Toward a collective ownership of stories" together, as a chorus. I might still try that, but I have been swamped and I know others are, too.
You are invited to slow-read this book with us, too. This slow-reading idea means we are not in any rush. The discussions will probably unfold over a few weeks, right into and through the new year. People will get their books when they can. Semesters need to end. The holidays need to pass. We're starting but there is no real starting point.
Come along with us.
Some of what we will do will be in our DigiWriMo Google Community. Some will be via the Twitter hashtag of #digiwrimo. Some will be at your blog. Or my blog. Some may unfold in Facebook. Some will take place who knows where. That's good. That's fine. We like that. Disperse your ideas in ways that help you move forward.
Peace (and participate),
Kevin