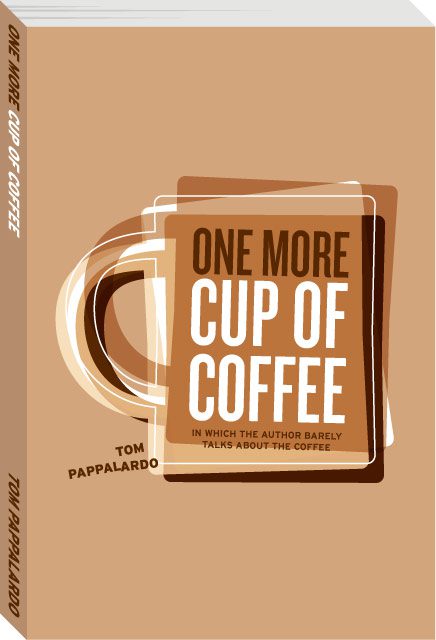 It's early morning — my writing time — and I am at home, not a cafe, but I am still traveling along with local writer/artist Tom Pappalardo as he brings me on his tour of coffee cafes in Western Massachusetts in his self-published book, One More Cup of Coffee.  The subtitle says a lot: "In which the author barely talks about the coffee."
Which is not completely true. Tom talks about the coffee, but more often, he talks about the people and the atmosphere, and his own state of mind when the coffee hits the cup in the various places in my hometown and beyond. I am a sucker for local writing, set in local places, and Tom is a gifted observationalist — a bit biting and sarcastic in his views of the world, perhaps, but he has a keen eye for overheard conversations (so much so, I was hoping he wasn't ever overhearing me in the booth next to him).
The passages here are short and often very funny, and Tom is not above calling the coffee bad when he tastes it, or the conversation, when he hears it, but he also celebrates something about the independent coffee shops that goes beyond the cafe itself — he is celebrating the public gathering spaces they represent, bringing people together to quietly write (as he does) or to loudly talk (as many do) or to just wonder about the state of the world (what I often do). Oh, and he is not afraid to tear down the corporate places, too. We do have Starbucks and Dunkin Donuts but only with great reluctance in these parts.
I don't visit the downtown coffee places like I used to, give my family and teaching job, but Tom's book brought me right into the heart of our Pioneer Valley's lively centers. I know most, but not all, of the places he writes about (and appreciated some of the local history of how-this-place-used-to-be-that-place), and I could sense that I was hanging out with Tom as he wrote (which he probably wouldn't appreciate or like, as my presence would interrupt his writing).
I bought this book to support a local self-published writer and the One More Cup of Coffee more than met my expectations, so much I just ordered another from Tom — a collection of comics and graphics. I think I recognize his work from our local alternative newspaper. I realized, too, that I have seen his music posters and artwork around my small city for years, and never knew it was him. Now I do. Good work, Tom.
Peace (and a hot cup of java),
Kevin