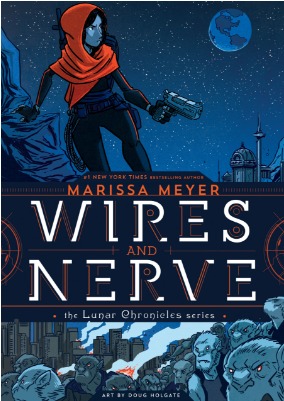 This graphic novel — Wires and Nerve — is my first brush with Marissa Meyers, who has written a series of books under the banner of The Lunar Chronicles. This graphic story has much of those stories as the backdrop but I dove in fairly easily even without knowing much of the past and I found myself quickly enjoying this graphic tale of the mending of relations between the Lunar society and the Earth one.
Like many good stories, this one revolves around heroes, and an emerging plot to bring them down. And as with many good stories, this one has its complexities, as a band of Wolf-like creatures (released on Earth during some earlier battle in some earlier story) are being brought together by a rogue agent, in an effort to bring down the new Lunar queen, Cinder.
Much of the story revolves around Iko, a cyborg friend of the queen, who has taken on the task of hunting down the Wolf-like creatures on Earth in a stealth missions. Iko is a complicated character, a creature of wires and circuits who seems to be on the verge of something mysterious (with plenty of hints for future story extensions).
This book moves along at a nice pace, and balances action with romance and friendship, and spends its time with character development. Even with this single book, I cared about Iko and her friends, and I look forward to future installments in the graphic novel series. I might even look at the novels.
Wires and Nerve is appropriate for middle school and high school classrooms. There is nothing here to warrant any red flags *unless kissing is your red flag. For girl and boy readers, Wires and Nerve might find an audience.
Peace (in the pages),
Kevin