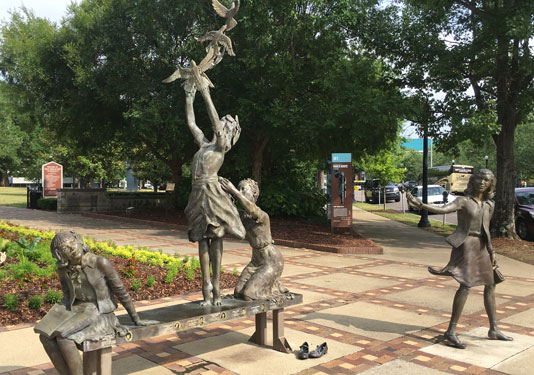 Photo: This West Park sculpture in Birmingham, Ala., commemorates the four little girls killed in the Sixteenth Street Baptist Church bombing on Sept. 15, 1963. Denise McNair, 11; Carolyn Robertson, 14; Addie Mae Collins, 14; and Cynthia Wesley, 14.
There are many reasons why I could not fathom the rise and candidacy of Roy Moore in Alabama. But I read deep enough into the election from many sources to be reminded again that different parts of the country, particularly some sectors of the rural South, see the world very different from my perch here in liberal Massachusetts.
Still, this morning, when I read that Doug Jones won over Moore in that Alabama special election for Senate, I felt myself exhale and go … phew! I don't expect Jones to be the progressive candidate I personally would like — that is not his constituency — but … phew.
Here's another reason why I really wanted Jones to win (other than a thumb to the eye of Trump and another thorn in the side of the GOP-run Senate): Jones was the U.S. Attorney who helped prosecute the racist white supremacists who had bombed the church in Alabama that killed four little girls (and injured other children) that is the heart of the book we read in my classroom — The Watsons Go to Birmingham 1963 by Christopher Paul Curtis.
I always start the book with Curtis' dedication page, in which he names the four girls who were killed, and we talk about what the dates next to the names mean (how young they were and how they were all killed on the same day). At the end of the novel, we circle back around, and talk about the girls and use primary sources to understand the Civicl Rights and the toll it took on so many people and families.
Now, when we read that book, I can point to Jones as one of the people who would not let that crime go unpunished, even though it took decades to identify and prosecute those responsible, and Jones' rise to the US Senate is partly built on that experience.
Phew.
Peace (in the morning),
Kevin