This morning's DS106 Daily Create call for "making stuff" was to merge a name with a famous person with the name of something else. Betty White Cake was the example (chuckle).
I wanted to do Edge of Darkness, with the U2 guitarist. And I wanted to merge two animated GIFs — the Edge with a dark scene — but I didn't know how to do that. So I learned how.
I searched the Net and re-discovered Animated GIF Maker (which I have used before to make a single GIF) and learned that you can upload multiple GIFs at a time and then arrange and re-arrange the frames. It's not perfect but it worked for what I wanted, a hint of the darkness of The Edge.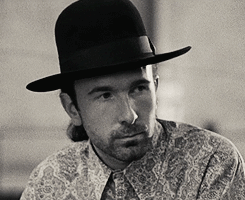 Now all I need is a soundtrack for the end of the world …
Peace (in frames),
Kevin