Although not in an all similar in content or style, Two Heads (A Graphic Exploration Of How Our Brains Work With Other Brains) reminded me a bit of Nick Sousanis' Unflattening for the way in which deep and difficult concepts are rendered more clear for a reader through the mix of text and graphic art.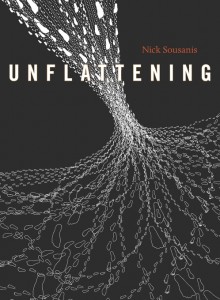 Two Heads — written by Alex Frith with art by Daniel Locke, with ideas from Uta Frith and Chris Frith — explores the science of the brain itself, and the complex and intriguing ways that our brains work or don't work, particularly in social situations, with other people in the mix. The graphics and the writing here are fun and engaging, even as the explanations are rather necessarily dense and complicated, as the book dives into focused neuroscience concepts.
This book, like Sousanis' book (which was his graduate thesis), is a definitely a scientific exploration, complete with references and citations to more than 300 studies and papers, and it never skimps on the science of the brain, whether the book (through the characters of Uta and Chris Frith, both esteemed figures in the worlds of brain science and psychology) is exploring autism, instinct, empathy, cooperation or free will.
Their main shared focus, as indicated by the subtitle, is how people's brains work differently and more efficiently, and more creatively, when they are cooperating and collaborating with others (with some exceptions) and how the brain itself functions and adapts in different situation, and what it might mean for us all. I'll be thinking about the book's concepts for some time to come.
What makes the book so readable is the playfulness of the writing (by Uta and Chris' son, established author Alex Frith) and the artwork over hundreds of pages by Daniel Locke. Locke turns brain concepts into visual art in so many inventive ways, and Alex Frith brings his parents to life on the pages with great compassion, making the husband-wife team not only understandable but lovable, too.
If only more academic textbooks were rendered in the format of graphic art …
Peace (thinking on it, deeply, with others),
Kevin