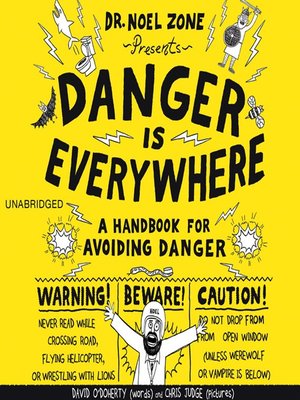 Danger is Everywhere: A Handbook for Avoiding Danger is a nice satirical antidote to the wave of adventure books for boys and girls now flooding the market. Writer David O'Doherty and illustrator Chris Judge bring a hilarious view to the world of dangers all around us, using their foil — Docter Noel Zone — and his observation that everything is out to get you to give helpful "advice" on staying alive in a dangerous world.
I had this book recommended by a student, who told me "I have to read this. Your life depends upon it." Oh, how right she was …
Don't believe me?
How about now?
From the Page 9 Scorpion, to the Polar Bear Attack, to the Toilet Shark, to the Mailbox Octopus and beyond … well, you get the picture (and speaking of pictures, the illustrations here are very funny). The good docter (yes, he put an "e" in there to show he is not a real doctor) is on the case, even as he touts the eating and use of cabbage and investigates the theft of a garden gnome (Mr. Chomsky … inside linguistic joke?) from a neighbor he has a crush on.
By the end of this lighthearted help book, you will emerge as an official Dangerologist. Not that it will do much good when the Mailbox Octopus or the Piano Walrus come for you …
Peace (in the fun),
Kevin