I am continuing to find ways to not only introduce technology and writing to my sixth grade students, but also to engage them in some critical thinking. For example, the other day, I showed them a funny mashed-up photo circulating the 'net, and then we discussed Photoshop and how nothing is quite what it seems in the wired world.
So I am interested in this project called NetDay, which seeks to gauge student understanding and knowledge of the digital world as a collective research project in the month of November. Here is an overview of guiding questions the group hopes the data can help us answer:
WHO are today's students?
HOW are your schools supporting the teaching and learning of 21st century skills?
WHERE are students and teachers accessing technology and learning technology skills?
HOW are teachers using technology for professional activities, both for teaching and for their own learning?
WHAT are students' ideas and concerns about technology use for their education?
WHAT are teacher's ideas and concerns about technology use and their professional goals?
WHAT are parent's ideas and concerns about technology use and their children's education?
There is also an invite to have parents participante in the surveys. Wouldn't it be interesting to compare data from parents to data from students?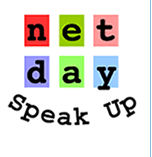 Peace,
Kevin