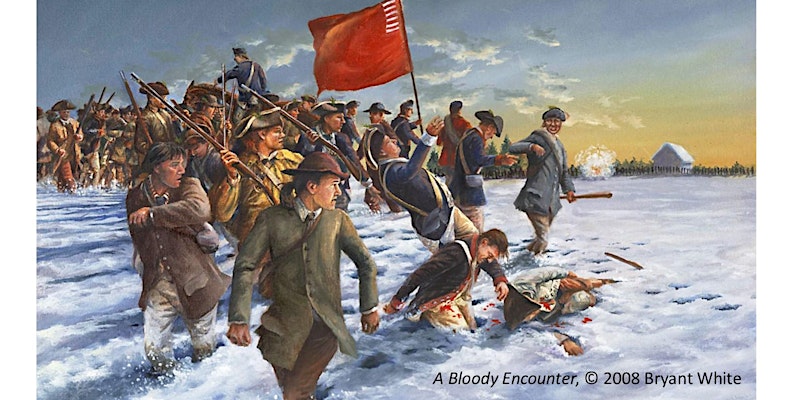 This morning, as part of an ever-expanding partnership connection between my Western Massachusetts Writing Project and the Springfield Armory National Historic Site, I am helping to facilitate a gathering of more than a dozen educators for the first of three sessions that centers on Shays Rebellion as a historical event, with resonance into the modern day of civic engagement, leading into student service-learning projects.
For this first session, our group is merely attending an all-day historical seminar at a Springfield college, with authors and historians exploring the impact of the post-Revolutionary War event here in Western Massachusetts in which a group of farmers and former solders rose up in arms against the ineptitude of the government, and demanded action to improve their lives.
This curated piece by the Massachusetts Historical Society — This Convulsed Commonwealth — is a good primer for Shays Rebellion, giving the reasons behind it, the ripples of fear it sent through the new US government, and the aftermath.
This Professional Development project is funded through generous support of the National Writing Project and the National Park Service. The armory site was the scene of one of the most intense clashes of the rebellion, as the so-called rebels (they would have called themselves patriots) marched to the national armory, in hopes of breaking in and stealing arms and munitions to help their cause. They lost that battle.
Here is a look at what we can expect today:
The Final Fight at Sheffield – Tim Abbott, Regional Conservation Director, Housatonic Valley Association. Master's Degree Clark University

Shays Kerfuffle: A Peoples Perspective – Daniel Bullen, Author. Ph.D. New York University

Archeology of the Shays Settlement – Stephen Butz. Author. Master's Degree Cornell University

Three Men in Debt – Tom Goldscheider Farrier. Master's Degree University of Massachusetts

More than a Little Rebellion – Barbara Mathews Director of Academic Programs Pocumtuck Valley Memorial Association. Ph.D. Brown University

The Contested Meanings of "Shays Rebellion Day" 1986 – Adam Tomasi Student Northeastern University. BA Wake Forest University.
Our aim with the PD is use the stories of Shay's Rebellion with teachers to think about Civic Engagement (the buzz word in our state and elsewhere) in the classroom, and to help formulate plans for student service learning projects in their own communities. Not to foment a new rebellion, perhaps, but certainly, we will be talking about the movement for gun control and for the environment as examples of national and global student-led movements. We have guest speakers lined up as well as activities around writing and deeper learning.
In the week leading up to today's Shays Seminar event, we have asked participants to do a little research on the people who involved in Shays Rebellion, and to narrow the focus on their stories. In a shared document, participants' insights into the motivations and impact of actions of these people — some famous, but most of the figures chosen are common people, caught up in the movement on either side — have humanized a historical event.
I chose Jonathan Judd, who hailed from the town where I teach. Judd changed his position about the Rebellion, ending up supporting the suppression of the revolt. As I note, I've had some of his descendants as students, so I was curious to learn more about him.
I have had some students who are descendants of Jonathan Judd, of Southampton (where I teach and where the Judds are still prominent), so I was curious about this man. It's interesting how he seemed to lean back towards the idea of the Monarch for at least lending stability to governance, in contrast to what he saw as mob rule with Shays. This led him to go to Springfield to protect the Supreme Court from the mob. I wonder if he ever changed his mind about the actions of the rebels?
Peace (past and present),
Kevin
PS — my fellow PD facilitators and I have grappled with how to spell Shay's Rebellion, or Shays' Rebellion, or Shays Rebellion. The Massachusetts Historical Society notes the difficulty in a common grammar.
The historical folks note:
Grammarians seem to be as divided over how to spell the possessive form of Daniel Shays'/Shays's name as historians have been over the causes and consequences of "his" rebellion. The Chicago Manual of Style would make it "Shays's," but notes, "feelings on these matters sometimes run high." The Massachusetts Historical Society library conforms to the spelling of Library of Congress subject headings, so has it, "Shays' Rebellion," but authors who have written about this topic are almost equally divided. An early history of Pelham, Massachusetts by Charles O. Parmenter gives us an alternative by referring to it as "The Shays Rebellion."