David Pogue of the New York Times has posted a very positive review (and nice video, too) of the new XO computer that is part of the One Laptop Per Child effort to create an inexpensive, portable, destruction-resistant computer for children of the developing world. The machines are open-source, so no Windows, which may shock some folks but keeps the price reasonable.
Pogue notes that the programming can become visible to students, too, as " … one keystroke reveals the underlying code of almost any XO program or any Web page. Students can not only study how their favorite programs have been written, but even experiment by making changes. (If they make a mess of things, they can restore the original.)" I love that idea of showing them code, and allowing them to tinker (but also to return to zero if everything falls apart)
And they are also going to be offering up a buy-one-yourself/give-one-away-to-a-kid sale next month, and when I told my wife that I was toying with the idea, I think her reaction was a mix of "We need more technology in our lives?" and "Sounds like a good way to help children in the world" so we'll see what happens.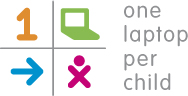 Peace (in the giving),
Kevin