My wife and I invited a few teacher-friends over to our house last night to watch a DVD of the movie, Chalk, which has been sitting on our counter for about five weeks now. This low-budget flick is in the great tradition of Spinal Tap, Waiting for Guffman, Best in Show, and others that shine a humorous light on some aspect of society (rock band, theater group, dog shows, teachers) while also bringing to the surface some truths about those worlds.
The director, Mike Akel, was a teacher and gets inside the school in a way that you don't see in many of the heart-breaking, heart-warming movies about education.
Chalk examines the lives of some young teachers at the start of their career in an urban city school as they stumble, mumble and groan, try to engage their students, plot their way to winning a teaching award, and just make it from day to day with their sanity intact. The main character — Mr. Lowrey — is a former computer geekwho took two aptitude tests that told him that teaching would be a good fit and here he is, losing complete control of his classroom. Other characters include the pushy PE teacher yearning for some personal life, a teacher-turned-administrator who now only interacts with the behavioral problem students and misses the classroom, and a third-year teacher who wants to be Teacher of the Year more than anything.
My friends and I were laughing through most of it as we saw ourselves, and our colleagues, in the characters and situations.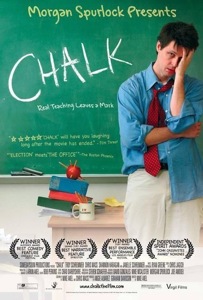 One sequence that we enjoyed was a twist on the Spelling Bee, called a Spelling Hornet, in which teachers took park in an event where they had to correctly spell various slang words used commonly by their students. The nerdy, nervous teacher wins, but only after getting some real education from his students. (And later, he kicks out a little rap rhyme for the class after being urged on by his kids).
Chalk is worth the rental and bring over a few teacher friends and have a party, and be glad that your first year of teaching is behind you.
Peace (in humor),
Kevin
PS — I just found the trailer for Chalk on YouTube (where else?) and so here it is:
[kml_flashembed movie="http://www.youtube.com/v/WwyLP6KKPKE" width="425" height="350" wmode="transparent" /]