We're hoping that when the 2016 version of Making Learning Connected MOOC kicks off on July 10 (sign up at the CLMOOC webpage or just jump in when you see things unfolding on Twitter, G+ or wherever it unfolds) that many participants will be "noticing" each other's work, and "honoring" it through remix or comments or connections.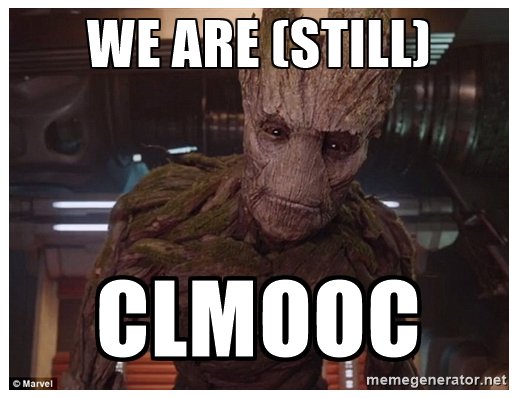 Following a Google Hangout meeting yesterday with some of the folks who have volunteered to help lead CLMOOC (Yep, it's a crowdsourced affair this year and very exciting to see CLMOOC being led by participants), I wanted to practice a bit with this concept of "noticing."
I began by following a link in a tweet by Simon to a post by Mary Ann Reilly, whose beautiful writing about loss has touched many of us in Slice of Life and beyond. She wrote a post called Love is a Story in Five Parts. Go read it. I was touched, and something about her last lines, about stories, stuck with me.
I used the app Super (which is very visual orientated) to honor Mary Ann's words.
Next, I was reading a post by Wendy, who is already taking part in a CLMOOC Postcard Project (which began last year with folks sending postcards to each other as connector points). She had just sent out a new batch of postcards.
There was a whole line she had written about understanding an image by altering it (or, as she put it, breaking it apart from the whole and seeing it anew). I used an app called Legend to pluck that phrase out.
On Twitter, Melissa wrote about looking forward to CLMOOC and she used a phrase (in response to Anna) that had me wondering. I went into Super again.
And finally, Terry wrote a blog post that had a theme of "reading outside of your discipline" so that you can step outside your bubble (and the post goes on with more depth on shell games and the current educational environment). The call to read far and wide is a good reminder. I slightly edited what Terry wrote for this, via Legend.
In noticing and honoring the work of others, I hope to go deeper with my own reading and understanding. When you approach a piece of text this way, you can't skim. You have to pay attention. (Go ahead and call it Close Reading, if you want). You are looking for resonation points, and ways to connect with the writer.
Peace (travels in connections),
Kevin